May 6-7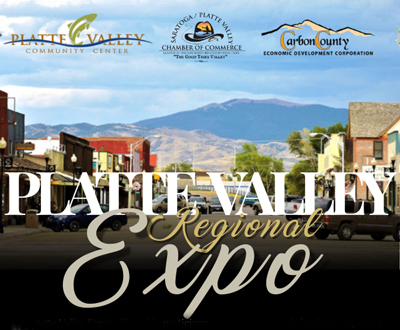 Join us for the first Platte Valley Regional Business Expo at the PVCC - 1-6 pm daily.
Guest Speakers   -  Job Fair  -   Live Music  -  Booths                                        Samples  -  Products & Services for Sale
To sign up for a booth or for more info, contact 307-326-7822 or email pvcc@carbonpower.net.
All businesses invited to participate. Maximize your exposure, make sales, introduce new products to the community.
Welcome to The Platte Valley
Community Center
The Platte Valley Community center is located in the heart of rustic, beautiful  Saratoga, Wyoming. We serve the entire North Platte River Valley. PVCC provides space for gatherings of all sorts,  and we know that when you're planning an event, you want to make it memorable. We'll see to it that it is!
You'll find the Community Center is the perfect place to host your next event: The Center has plenty of room for art shows, wedding receptions, and performing arts that need a quality auditorium with comfortable seating and splendid acoustics.
We also welcome meetings and formal presentations and have a variety of services and spaces to accommodate anything you plan.
Lodging and dining are available in several venues around town. And the great outdoors is just waiting for you to come and enjoy!

A Message from Executive Director, Joe Elder
"Good things happen when people get together. This building is a testament to people getting together and creating something. Whether it's for fun, for business, to sell an idea, to get married or to remember someone, I enjoy matching the many capabilities of Platte Valley Community Center with peoples' wants and needs.
It is rewarding to help people that live here find the right space to work, play, learn, teach and make art. I also enjoy helping to bring people to this Valley so they can experience the things that connect me to this place: the people, the schools, the businesses, the year-round outdoor recreation and the open spaces."