Bon Voyage Party on the Platte
Join us for our 11th Annual PVCC Fundraiser
It's time for our 11th Anniversary Celebration!
Saturday, September 8th come for cocktails at 5:30 p.m, dinner at 6, and live auction at 7.
If travel and adventure get your engine running, don't miss this evening!
This year's auction items will get you in the mood to put on your traveling shoes and see the world.
Sponsor a table for $500, or enjoy the evening for a $40 ticket. 
This year, Scott and Michelle, Inc will provide catering services, and promise to whip up something scrumptious! Menu details coming soon.
Bar service will be provided by the Wolf Hotel.
Click on the image below for a downloadable reservation form. Please return by mail, or drop it by the PVCC office during business hours.Thanks!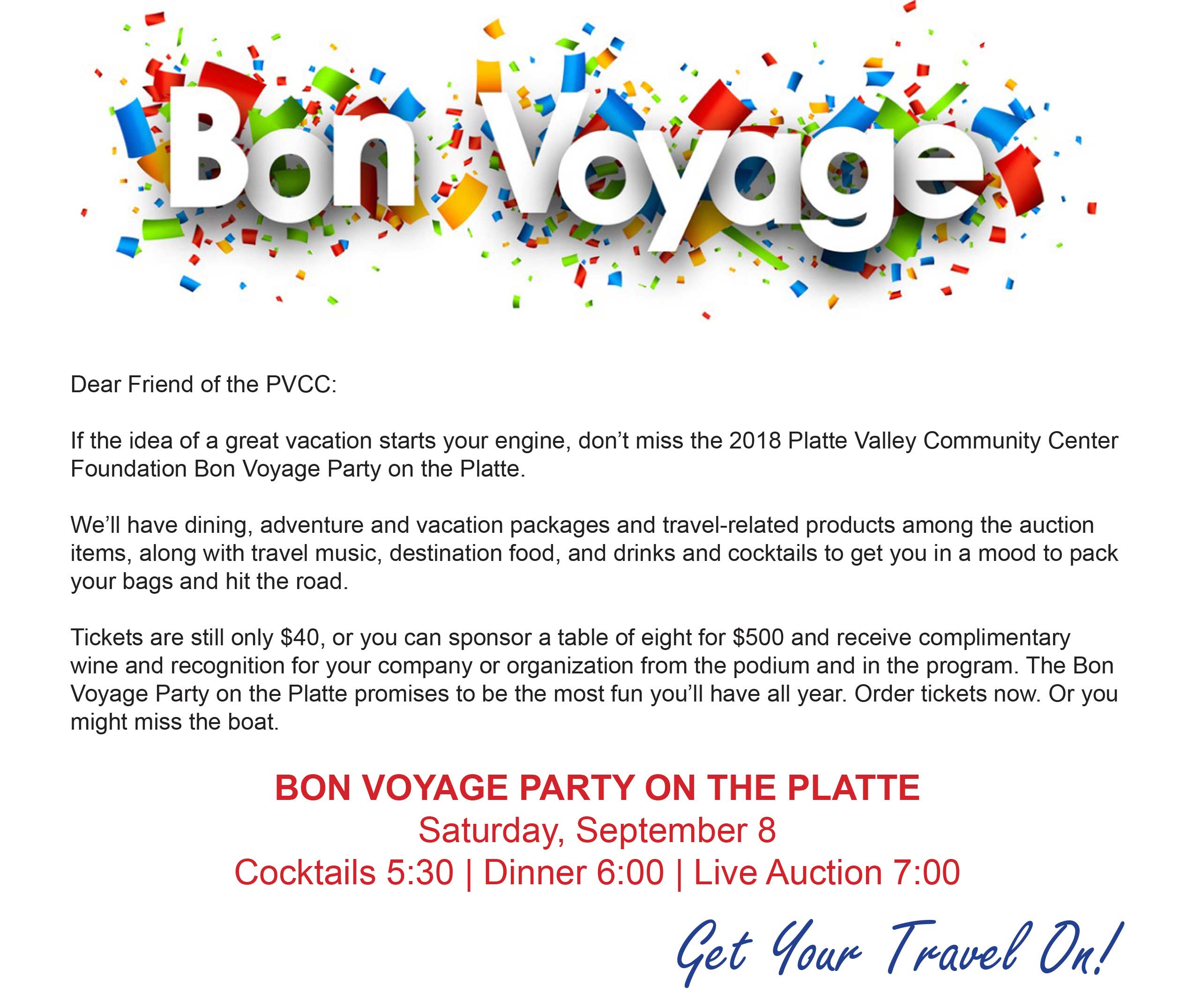 Your Contributions Have Done So Much!
We've reached this milestone because of the incredible generosity of this great community, so once again, thank you. Your participation, including your past auction item donations, have helped make our previous fundraisers, a huge success.
Because of your generosity, we have been able to:
Add a new heating system in the gym
Install computer and tech upgrades
Install new gym floors
Remodel bathrooms in the gym and  install fire suppression sprinklers
Do a parking lot expansion and resurface project
Restore and re-polish concrete floors
These improvements increase our ability to serve Platte Valley residents and visitors, and to accommodate many different types of events here at the Platte Valley Community Center.
This Year's Event
We're hoping to see you once again when we gather on September 8th. Families and businesses sponsoring a table can expect a very fun evening with like-minded neighbors and friends who understand the value of the Center.
Table sponsorship ($500) includes, at a minimum, two bottles of wine, your business logo (or name) on the centerpiece and in the running slideshow during the event, along with seating for up to 8 guests.
If you have any questions, please call Joe Elder at 326-7822  or email  pvcc@carbonpower.net. We look forward to sharing the evening...and many, many more years of community events at PVCC.