10th Annual PVCC Fundraiser- Party on the Platte
Join us for our 10th Anniversary Celebration! Friday,  September 22nd we'll "Party on the Platte" at our annual fundraiser, and we hope to see you there. Sponsor a table for $500, or enjoy the evening for a $40 ticket. 
This year's meal will be prepared by Scott and Michelle McIlvaine, with dessert provided by Sweet Marie's Bakeshop.
Here's the menu:
Slow Roasted New York top Loin with Rosemary Merlot Au Jus
Roasted Garlic Smashed Baby Red Potatoes
Prosciutto wrapped Asparagus Bundles
Fresh Baked Rolls with Himalayan Pink Salted Butter
Harvest Salad with Toasted Walnuts, Fresh Bleu Cheese, Dried Cranberries,
Fresh Tomatoes and Spinach with a Homemade Raspberry Vinaigrette
Opera cake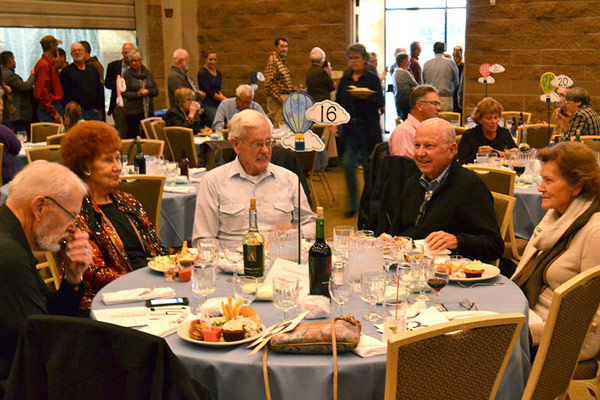 Your Contributions Have Done So Much!
We've reached this milestone because of the incredible generosity of this great community, so once again, thank you. Your participation, including your past auction item donations, have helped make our previous fundraisers, a huge success.
Because of your generosity, we have been able to:
Make enhancements to the theater
Provide a technology upgrade
Install a new gym floor
Remodel the bathrooms
Add a  fire suppression system in the gym
And finish paving the parking lot and alleyway off of First St.
These improvements increase our ability to serve Platte Valley residents and visitors, and to accommodate many different types of events here at the Platte Valley Community Center.
This Year's Event
We're hoping to see you once again when we gather on September 22nd. Families and businesses sponsoring a table can expect a very fun evening with like-minded neighbors and friends who understand the value of the Center.
Table sponsorship ($500) includes, at a minimum, two bottles of wine, your business logo (or name) on the centerpiece and in the running slideshow during the event, along with seating for up to 8 guests.
Caitie Taylor and Daron Little will be playing music during the cocktail hour.
If you have any questions, please call Joe Elder at 326-7822  or email  pvcc@carbonpower.net. We look forward to sharing the evening...and many, many more years of community events at PVCC.